Are you looking for special and unique birthday gifts for Mom for her birthday? Want something that will truly make her day more memorable? We know just the thing – a one-of-a-kind, thoughtful present. From Custom Photo Blankets to Personalized Signs, there's bound to be something in our list of 22 adorable unique birthday gifts for mom that she'll absolutely adore! So read on and get ready to surprise your beloved mother with an unforgettable token of your appreciation this year.
You won't have to waste precious moments wandering on the website for a special something for mom – we've done all of that hard work and found some truly remarkable presents! If you don't have any ideas yet, then why not check out our best compilations? Treat your fabulous mama with something truly awesome today!
Discover the perfect personalized birthday gifts for Mom to make an extra special day!
1. We Love You Word Art Personalized Sign – Unique Birthday Gifts For Mom
Thrill your one-of-a-kind mom this year with our unique We Love You Mom Word Art Sign! This charming piece is perfect for any occasion, like Mother's Day, her birthday, or just to show how much you appreciate her. It's personalized just for her, with your choice of names that are written in beautiful script letters.
This charming sign will bring a special touch to any wall. Made from solid wood finished with a classic white wash and hooked ribbon, it has a timeless look and will match any décor. Plus, the lightweight design allows it to be easily hung up at home or given as a treasured keepsake.
Make Mom feel appreciated and cherished on her special day with this heartfelt gift! The best part? You can customize the lettering and even add an extra special "we love you" message if desired. With its thoughtful details, stunning craftsmanship, and the sentimental meaning behind it – she'll be simply delighted!
From 39.95$ – 179.95$
2. Puzzle Pieces Mom Sign With Kid's Name 
Perfect for any home, this charming sign will bring a smile to any mom's face every time she looks at it. Featuring wooden puzzle with each piece that can be customized with your kid's name and yours, this meaningful sign is an ideal way to show your appreciation for the most important woman in your life – Mom! The special design is made of premium stainless steel that is rust-proof and highly durable. Add some sweetness to her day with this great birthday gift for mom that can be displayed anywhere around the house or hung up on the wall to make it more memorable. Show Mom just how much you care with the Puzzle Pieces Mom Sign With Kid's Name!
From 39.95$ – 179.95$
3. Customized Engraved Cutting Board 
A customized engraved cutting board is not just a mere kitchen tool, it's a token of love and warmth that will last for years to come. It's a perfect gift for a your mom on her birthday, adding a touch of personalized elegance to your daily life. The beauty of having your own customized cutting board is that you can make it truly yours, with your desired engraving or design. Every time she use it, she'll feel the love and thoughtfulness put into creating it. Crafted with durable and high-quality materials, it's not just aesthetically pleasing, but a practical tool for meal prep as well. Give unique birthday gifts for moms of personalized beauty with a customized engraved cutting board.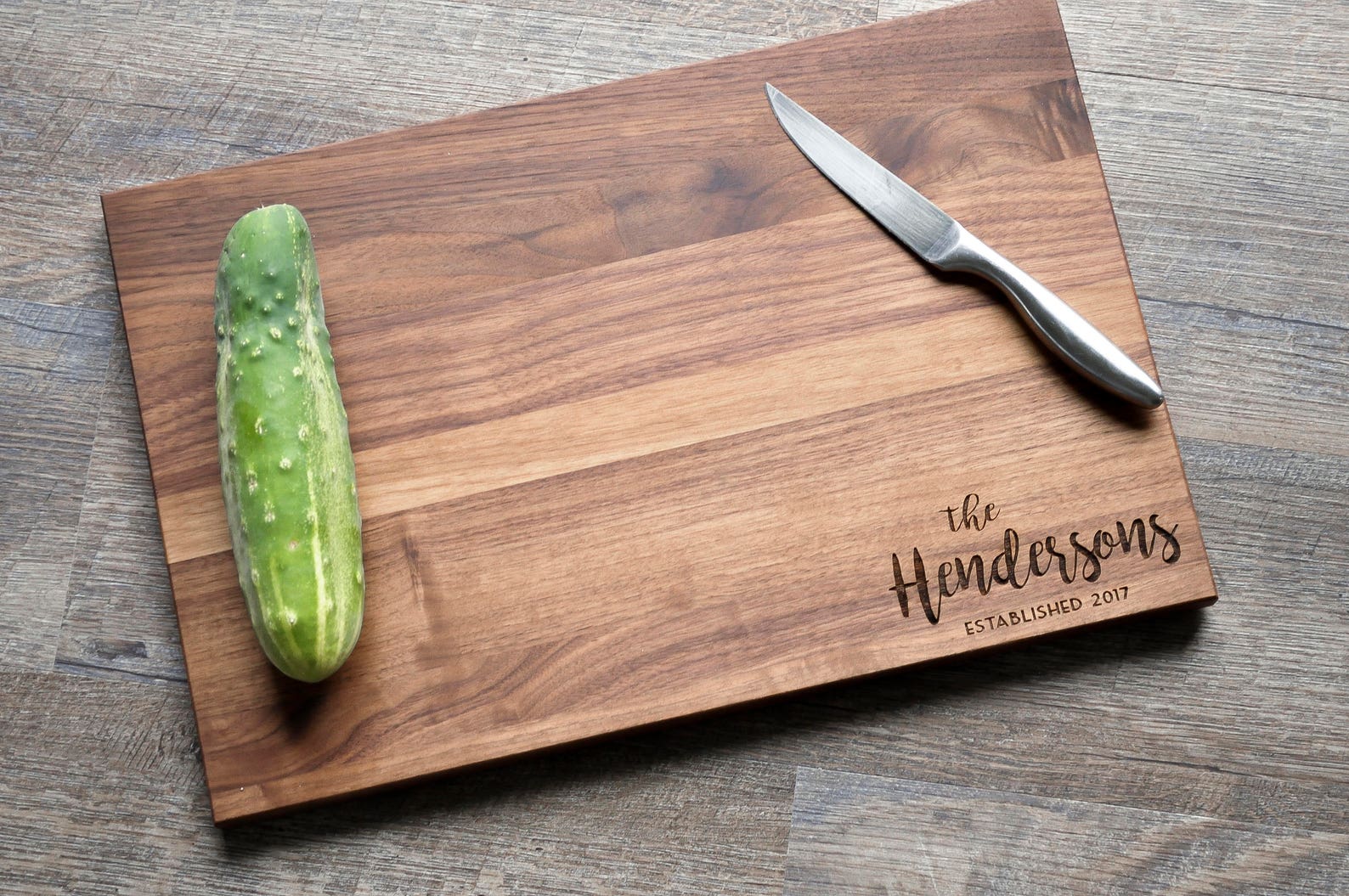 4. Custom Beads Birthstone Pendant Necklace
Add a special touch to any outfit with this custom necklace featuring birthstone. The pendant sparkles and shines in dazzling fashion, ensuring you make an impact wherever you go! Choose a gift that lasts forever and shines, literally, like the relationship between you and Mom! Get an exclusive custom beads birthstone pendant necklace for the special someone in your life. This beautiful handmade necklace is simple but meaningful, it celebrates something that means to Mom such as kid's names, and birthstones. Whether you want to find personalized birthday gifts for Mom or just show her how much she means to you, this unique necklace will do just that!
5. Personalized Mom Sign with Children's Names
This beautiful Personalized Mom Sign with Children's Names is the perfect way to show your mother how much you love her. This will be one of the unique birthday gifts for Mom because It's designed with children's names and features a loving message. The rustic background and sweet message will bring a smile to her face every time she sees it. The Personalized Mom Sign with Children's Names comes with the names of each of your children spelled out in charming lettering, along with the phrase "We Love You Mom". It's a wonderful way to celebrate motherhood and all that your mom means to you.
From 61.95$ – 369.95$
Thoughtful birthday gifts for mom to surprise and delight
1. Customized Photo Candle for Mom
Every mom deserves a little extra love and appreciation on special occasions, and a personalized photo candle is the perfect way to show it. With a custom-made candle, you can add a special touch with a treasured family photo or a candid moment captured in time. Not only will it brighten up her day, but it will also add a warm and comforting ambiance to her home. Imagine her face lighting up with joy as she sees her favorite snap beautifully crafted onto a fragrant, glowing candle. It's truly a gift that keeps on giving, and one that your lovely mom will cherish forever.
2. Vintage Flower Mom Sign With Kids Names
The Vintage Flower Mom Sign with Kids Names is an original, personalized gift that every Mom is sure to love! The Vintage Flower Mom Sign also includes each of the children's names, making it a truly unique piece Mom can be proud of. Whether you are shopping for a gift for your own mom or someone else's, this sign marks the perfect expression of heartfelt gratitude. Made with love and care, this beautiful sign is sure to make anyone smile. These unique birthday gifts for Mom are also perfect gifts for grandmas, wife, or loved ones on special occasions and holidays.
From 39.95$ – 94.95$
3. Custom Personalized Mother Bracelet
Are you looking for the perfect bracelet to express your appreciation for your mother? Whether it's a special gift for a birthday, anniversary, or just because you want her to know how much she means to you – then look no further. A custom personalized bracelet is a perfect way to show off your love and remind her of all the special memories that make up your mother-child relationship. There are endless possibilities with this beautiful piece, from letting her proudly wear your initials on their wrist or even engraving a heartfelt message that celebrates everything she has done!
4. Neck Massager
Finding great birthday gifts for Mom can be quite a challenge. But this year, why not give her something unique and memorable? A neck massager is an excellent way to show your mother how much you care about her well-being, offering relief for aches and pains as well as much-needed home spa experience! With its unbeatable combination of massage-based comfort and cozy relaxation, this thoughtful present will let Mom know just how appreciated she truly is in all aspects of life.
5. Mom We Love You Sign with Kids Names
With our Mom We Love You Sign with Kids Names, you can honor the most special ladies in your life and share a personalized tribute to remind her of your family's appreciation. Adding each kid's name on each heart brings an extra dimension of sentimentality to the work, making it even more special. This classic sign can proudly be displayed in any room or gallery wall. Show that unique bond between a mother and her children with these timeless personalized birthday gifts for mom.
From 39.95$ – 94.95$
In conclusion, there are countless adorable gifts to choose from when searching for unique birthday gifts for mom. From personalized gifts like a creative photo collage, or thoughtful gifts that never disappear, to something mom can really enjoy, there is something to make mom's birthday the absolute best. Above all else, it's likely the thought you put into her favorite gift that she'll appreciate most of all. Taking time out of your day to pick out something meaningful and memorable speaks volumes about your love and appreciation for Mom. No matter which gift you choose, it'll be one that she cherishes for many years to come.